BELLS AND THE LOCKDOWN 
Dear Bells Diners, we're excited to announce that we will reopen to provide a contactless collection service. We now open on a FIVE day basis for TAKEAWAY: 5pm to 8:30pm Wednesdays, Thursdays, Fridays, Saturdays & Sundays  (Friday and Saturday 5pm until 9pm) –   with the view to extend hours if demand requires. For those who can't collect from the Diner, you can order through Deliveroo. 
Please be assured we follow strict government health and food preparation guidelines to ensure the safety of our customers and staff.
We look forward to seeing you all again albeit through a window or the door!
Temporary Opening Hours
Wednesday 5PM to 8.30PM 
Thursday 5PM to 8.30PM 
Friday 5PM  to 9PM 
Saturday 5PM to 9PM 
Sunday 5PM to 8.30PM 

Closed Monday and Tuesday 

Collection from restaurant
0131 225 8116
Or now available on Deliveroo
Menu - Call & Collect 0131 225 8116
ALLERGENS Please advise staff of any allergies or intolerances before ordering. Whilst all  care is taken, please be aware our food is prepared in a kitchen where allergens are present. 


CEOLIAC All of our food is Gluten Free except where marked ***  our classic burger mix contains traces of  barley vinegar so we will prepare yours individually.


All Bells Burgers are made in our kitchen using our own wheat free recipes served on a lightly toasted sesame seed bun with salad (LETTUCE, CUCUMBER, TOMATO, RED ONION, GHERKIN)
Gluten Free buns are  available, just ask!
4OZ BEEF*** £7.00
6OZ BEEF*** £9.00
8OZ BEEF*** £11.00
SPICED LAMB BURGER  £10.00
CHICKEN BURGER (chicken breast) £8.00

CHILDRENS 'BRAT' BURGER 2oz £6.00
(any of the above varieties of burger including veggie etc)
served with fries
CHEDDAR CHEESE £1.00
EMMENTAL £1.30
APPLEWOOD SMOKED CHEESE £1.30
MEXICAN HOT CHEESE £1.30
UNSMOKED BACK BACON £1.50
FRIED EGG £1.50
HAGGIS *** £1.50
STORNOWAY BLACK PUDDING * £1.50
JALAPEÑOS £1.00
RELISH: 2OZ TUB £0.50
Choice of – SWEETCORN, BBQ, CHILLI, TOMATO 

Tomato sauce and mayonnaise are of course free, just ask!
FRIES £3.00
HALLOUMI FRIES £5.50

LOADED FRIES – CHOOSE FROM…
CHEESE, ONION, SRIRACHA, MAYO £5.50
ADD CHORIZO £6.50
BEEF CHILLI FRIES WITH CHEDDAR AND SOUR CREAM £6.50
3 BEAN CHILLI FRIES WITH CHEDDAR AND SOUR CREAM £6.50
(VEGAN – without cheddar and sour cream)
VEGETARIAN & VEGAN OPTIONS
NUTBURGER vegetarian £8.00
On our menu since 1983, fresh garlic; peppers; mushrooms and herbs with a great nutty bite
SPICY BEAN BURGER vegan £8.00
Softer texture, laced with fresh coriander and a wee kick of spice
FALAFEL BURGER vegan £8.00
Full of fresh green herbs and middle eastern spice served with our roasted beetroot and walnut dip. (dip optional for those with a nut allergy)
MUSHROOM BURGER vegan £8.00
Field mushroom, cannelloni beans and tahini. A mushroom bite served with Suzie's Red Pepper Relish.
Tasty stuff in butter that melts over your burger (vegetarian)
GARLIC BUTTER £1.00
freshly minced garlic and parsley
PEPPER BUTTER £1.00
crushed green peppercorns & dash of brandy
ROCKFORT BUTTER £1.00
blue cheese, white wine, lemon juice
CHILLI BUTTER £1.00
marinated chipotle peppers,
garlic, paprika & chilli
MUSTARD BUTTER*** £1.00
mix of wholegrain & English mustard
GARLIC BREAD vegetarian £4.00
Gluten Free option available 
COLESLAW vegetarian £2.50 small /£3.50 large
FRIED ONIONS vegan £2.50 small/£3.50 large
SAUTEÉD MUSHROOMS vegetarian £3.50 small /£5.00 large 
MIXED SALAD vegan £4.00
TOMATO SALAD vegan £5.50
with OLIVES, RED ONION & BASIL dressing
The real deal with three scoops of ice cream and a dash of milk
VANILLA  £4.50
CHOCOLATE £4.50
STRAWBERRY £4.50
RASPBERRY £4.50
MALT £4.50
FRESH BANANA £4.90
PEANUT BUTTER £4.90
CHOCOLATE MALT £4.90
PEPSI £1.50
DIEST PEPSI £1.50
IRN-BRU £1.50
DIET IRN-BRU £1.50
7 UP £1.50
GINGER BEER £1.50
SPARKLING SPRING WATER £1.50
SAN PELLEGRINO ORANGE OR LEMON £2.00
Our classic ice cream sundae made with Crolla's Ice Cream

BELL'S FUDGE SAUCE £5.00
BELL'S CHOCOLATE FUDGE SAUCE £5.00
CHOCOLATE NUT £5.00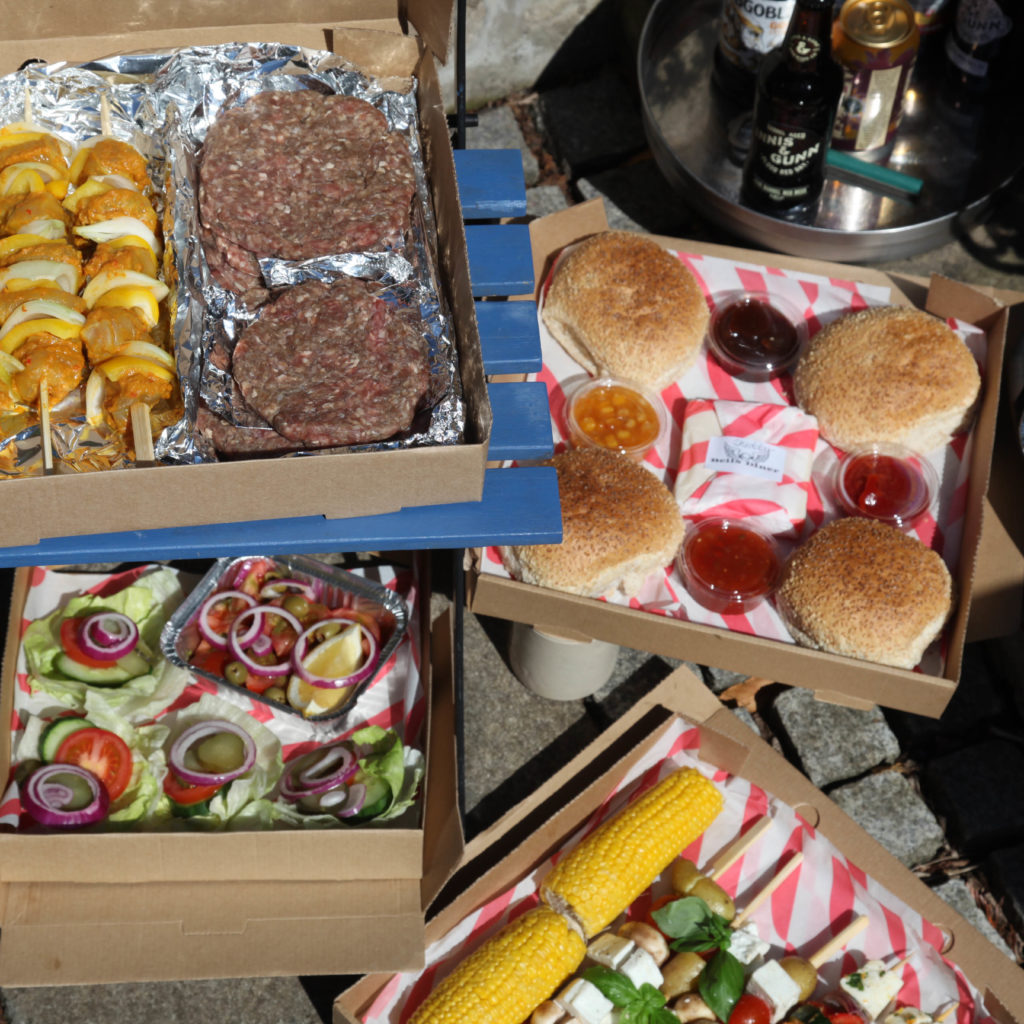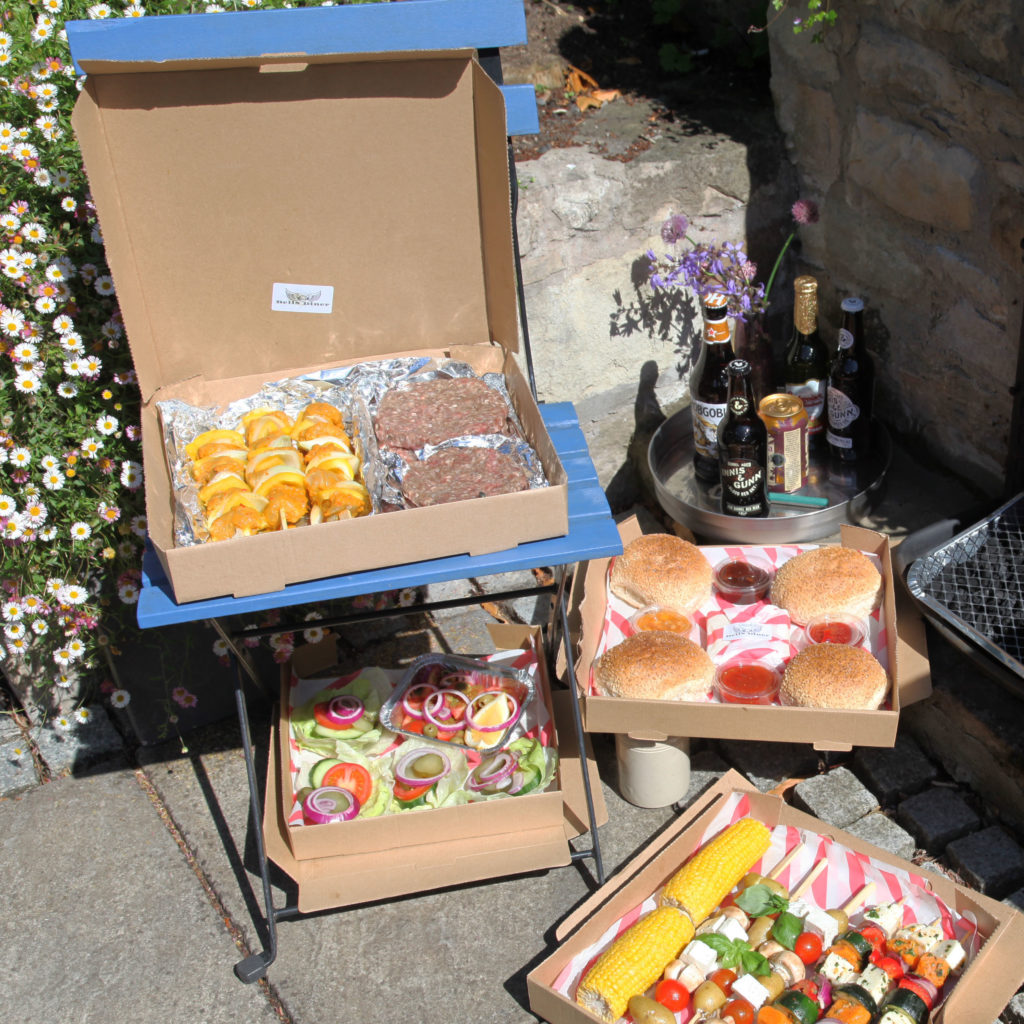 BELLS DINER BBQ BOXES
Grab and go!! instant Bells on your BBQ!!! Hassle free!!
Classic BBQ's take love, time and preparation. So, let us at Bells, your favourite diner, do what we do best.  We've put together, a complete pick up and run option to allow everyone to make the most of our summer. 
We blanch, marinade, season, prepare and pack the food, so all you need to do is check the simple cooking guide and get stuck in. 
Avoid supermarket drudgery, excess packaging and preparation time by calling us 24 hours in advance of your social gathering.  If the weather changes….surely not ??? Dinnae fash yirsel it can be done at HOME… cooking instructions included, whatever the weather, for your oven, grill or BBQ.
The perfect delicious grab and go meal, Bells Barbie Boxes for the garden, park, balcony, beach or kitchen table. It's the perfect scrumptious dinner solution whilst soaking up the summer rays and seasonal Scottish days. 
ORDERING and COLLECTION …. call 07598 375341
Available:  FRIDAY, SATURDAY and SUNDAY (flexible for special occasions)
Orders for BELLS BBQ BOXES will be taken using the number above in advance with collection from Bells or delivery in Edinburgh (£5) the following afternoon by arrangement
For Example:
For a SATURDAY BBQ … place your order by 6pm on Friday. 
Pay and collect from Bells on Saturday between 11-12am or 4-5pm 
Delivery by arrangement in the afternoon. Cash on delivery or bank transfer
This gives us time to prepare your order and marinade your chicken or Veggie kebabs to perfection. An overnight marinade positively sings to the food gods!
WHAT'S IN MY BBQ BOXES?
MEAT-EATERS  –  £35 
4 x 6oz Bells Beef Burgers
4 x Cajun Chicken Kebabs (marinated in fresh lime juice and Cajun Spice)
4 x Il Panino Sesame Burger Buns
4 x Bun Salads – lettuce, tomato, cucumber, gherkin, red onion
4 x Assorted Relish
4 x Cheddar Cheese Toppings 
1 x Bells Homemade Slaw
VEGGIES AND VEGANS – £25
4 x Halloumi and Vegetable Kebabs (marinated in Fresh Herb & Olive Oil)
4 x Pitta Breads
4 x Corn Coblets
1 x Tomato, Basil and Marinated Olive Salad
1 x Bells Homemade Slaw
1 x Moroccan Roasted Beetroot Dip
ALLERGENS: We can cater for most dietary requirements as food is prepared by
us at Bells. Please discuss any allergies or intolerances prior to ordering.
The environment is important to us
In our BBQ BOXES: burgers, kebabs, salads, relishes etc will be packaged using either paper, metal foil or vegware containers instead of plastic discs and wrappers. Everything in your boxes can be burnt in your fire pit after use or safely recycled at home. Where this is not possible we will keep our environmental impact to a minimum. Please help us by recycling responsibly
You can find us in Stockbridge's quaint St Stephen Street across the road from the famous Bailie Bar